Beech logs are the basic raw material for our rotary cut veneers, from which we produce moulded parts. Die Buche bietet hierfür die perfekten technischen Holzeigenschaften: Hohe Festigkeit und starke Verformbarkeit.
For your individual products made of shaped wood, we offer surfaces made of sliced veneers in a wide variety of finishes (e.g. oak, walnut, maple, 3D veneers, etc.). There are no limits to the type of wood, the veneer patterns and the surface treatment. The component thickness and the lay-up are optimized for your application.
The use of decorative laminates (HPL / CPL) gives you attractive looks combined with scratch-resistant surfaces and a long service life.
In our moulded wood catalog, you can choose from a wide variety of moulded wood parts. Below you will find an overview of our press tools.
Please note that we are not allowed to press parts from tools with the identification "customer tool" without permission. Please feel free to contact our sales staff if you are interested in such a mould. We will be very happy to check with owner of the mould if usage against a licence fee is possible.
In the production of our plywood mouldings, we use the latest generation of formaldehyde-reduced glue systems. These are subject to strict test criteria. Measurements by an accredited institute in accordance with DIN EN 16516 confirm that our molded parts are well below the limits of the Chemicals Prohibition Ordinance, which has been in force since the beginning of 2020. On request, you can obtain the valid certificate from your OWI sales consultant.
After machining your product, we offer all conceivable operations. Grinding and assembly activities up to the ready-to-install component are provided by us individually.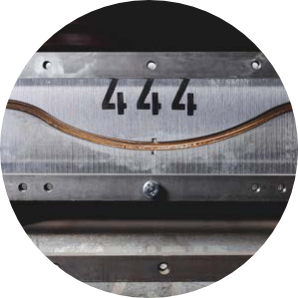 If you have not found the right tool for your wooden part in our catalog, our in-house toolmaking department will be happy to produce a tool according to your requirements. Depending on the required properties and batch sizes, we produce high-frequency, electric or indirectly heated moulds.
The beech logs are sourced exclusively from sustainable managed, regional forests.
Upon request, we can manufacture your products from FSC ®-(license no. FSC-C020682) certified wood.
Since 2023 we are certified for the production of plywood moldings with fire protection requirements for railroad applications according to EN 45545-2.
With OWI-FireProtect ®, we supply you with flame-retardant molded parts for applications with increased fire protection requirements, such as seats for buses, trains, airport seating and much more.
OWI-FireProtect® (Klassifizierungsbericht & Prüfberichte)